Live week-by-week attendance reporting for schools is back with a range of new features. Track and analyse all your attendance data, then compare against 1000s of other FFT schools each week. All fully automated from collection to reporting with no user intervention required. Attendance Tracker is free to all FFT schools - simply log in to Aspire to start viewing your attendance reports.
Attendance Tracker is TEN reports in ONE easy to use system. It covers attendance and absence at school level right down to individual pupils. It helps you to identify and analyse attendance issues for specific year groups, pupils groups and individual pupils. Most importantly, it allows you to compare your pupils' attendance to similar pupils across the country on a week-by-week basis.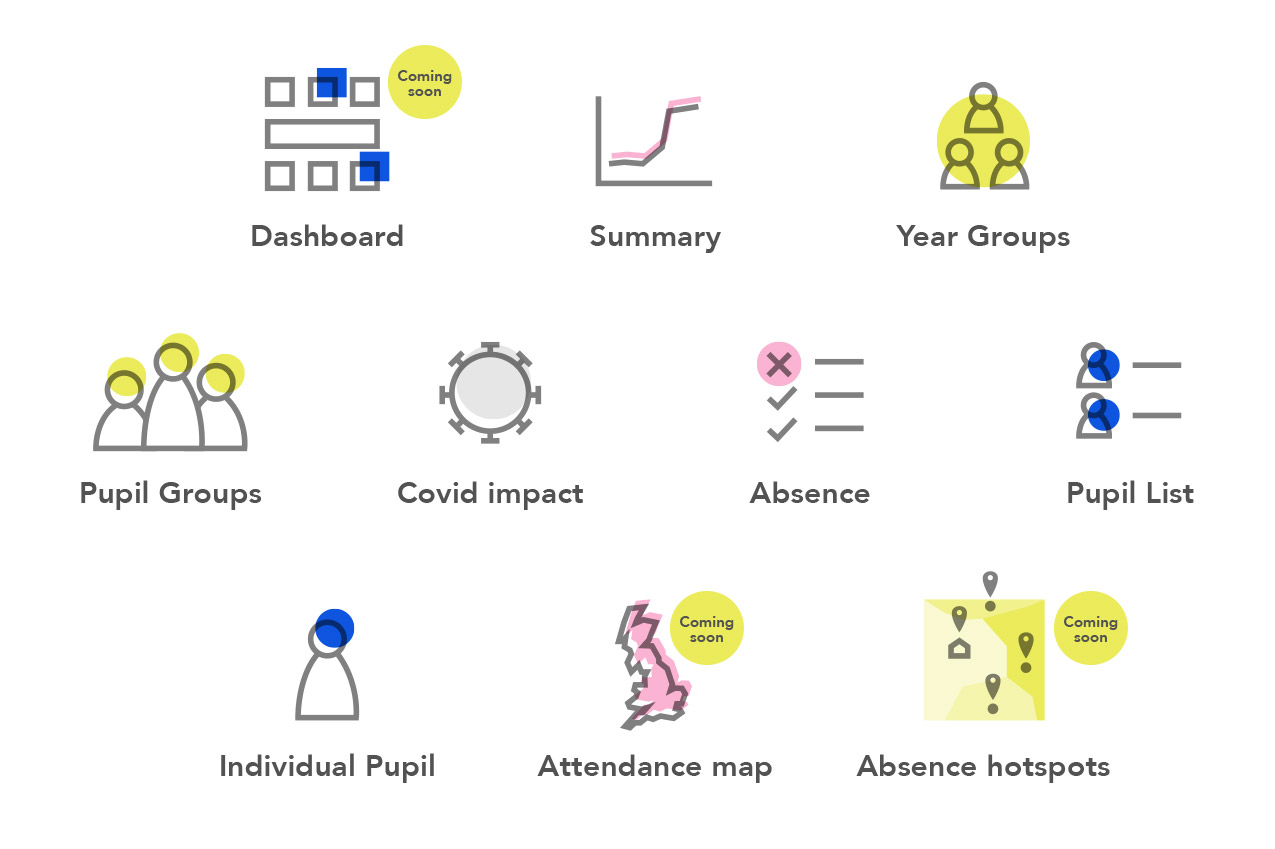 This Autumn, we've added a range of new features and data to make Attendance Tracker even better. Look out for more exciting new reports later this term including summary dashboards and geographical mapping.
All reports now display cumulative (Year to date) attendance
New 'Half-termly' view of attendance data
Fully interactive charts with 'like-for-like' national comparisons
Revised Covid Impact report – measure the impact of Covid-19 on attendance at your school compared to national patterns
New deep-dive facility for identifying and targeting persistent absence using 'Attendance bands'
Improved range of export options including PDF and Excel – great for meetings or local analysis of data
Fully reflective of the DFE's new attendance codes
The week's attendance headlines...
Attendance Tracker's Dashboard and Summary reports provide you with the week's headlines. Key attendance and absence indicators, weekly changes, live national comparisons and a yearly tracker. All colour coded and clearly laid out.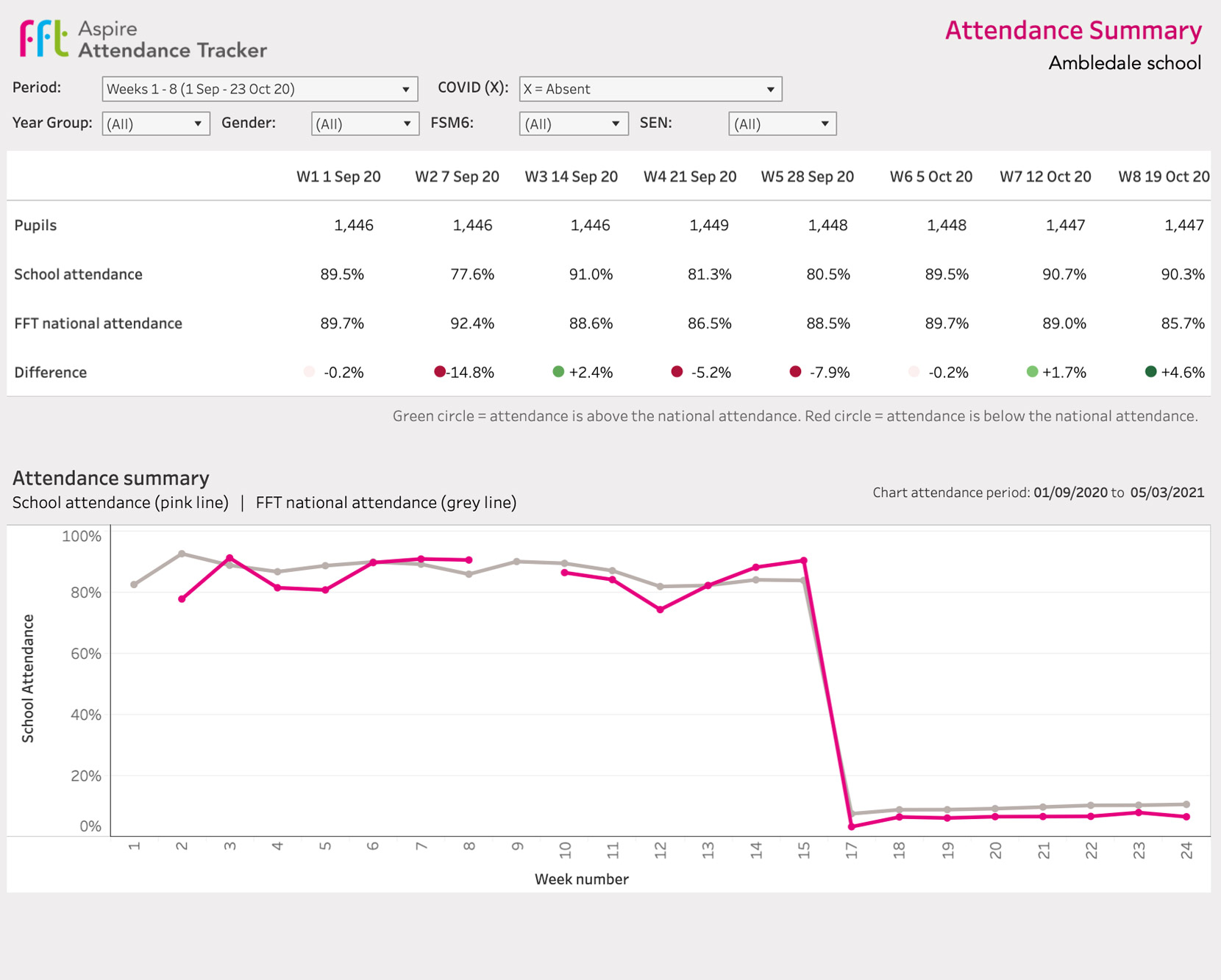 Detailed attendance analysis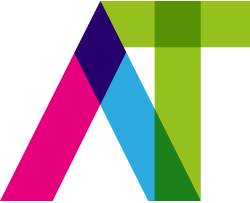 We know that attendance varies across year groups. Track and compare your own year groups internally, then compare to 1000's of other FFT schools nationally.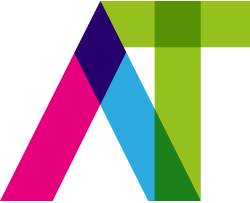 Every pupil has a story...
At the core of our system are your pupils. Their attendance journeys are your attendance story. Whether it's groups of pupils or individual students, Attendance Tracker displays each pupil's attendance journey, allowing you to identify needs and support children and young people more effectively.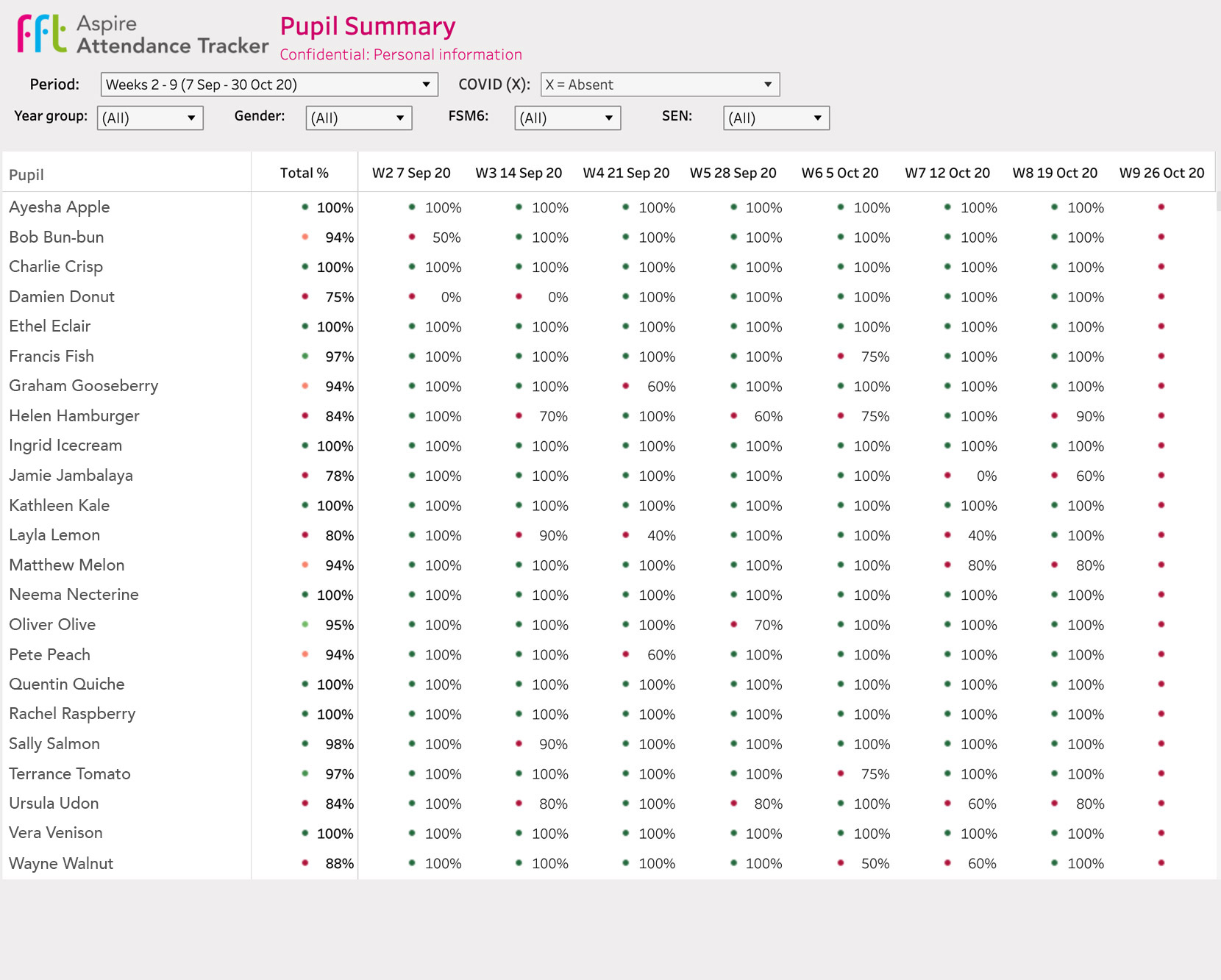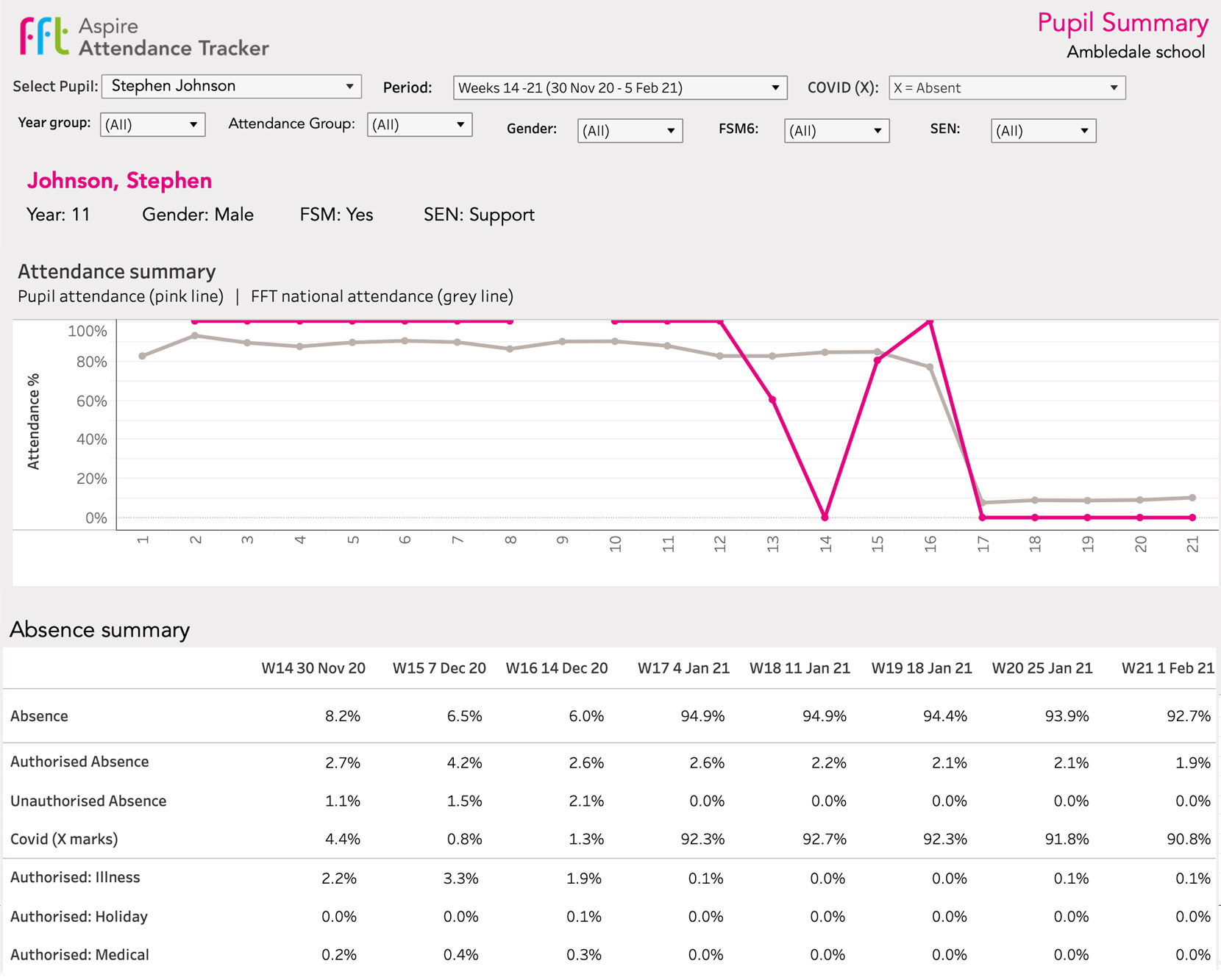 The geography of attendance
Analyse your attendance geographically using two new FFT reports – Attendance Maps and Absence Hotspots. Highlight and identify areas of high and low level absence in your catchment area - then use our time series animation tool to see how attendance changes over the course of the academic year.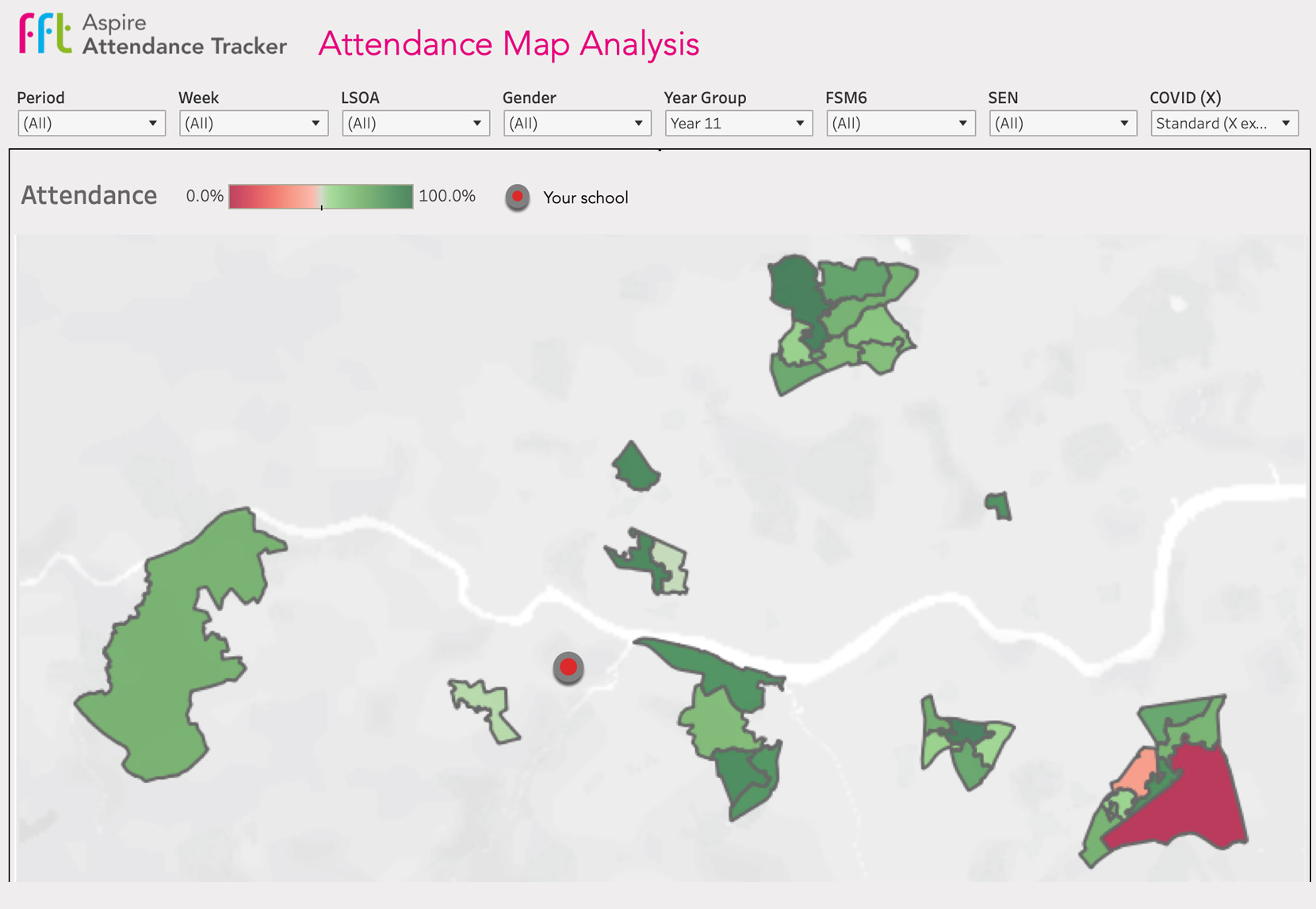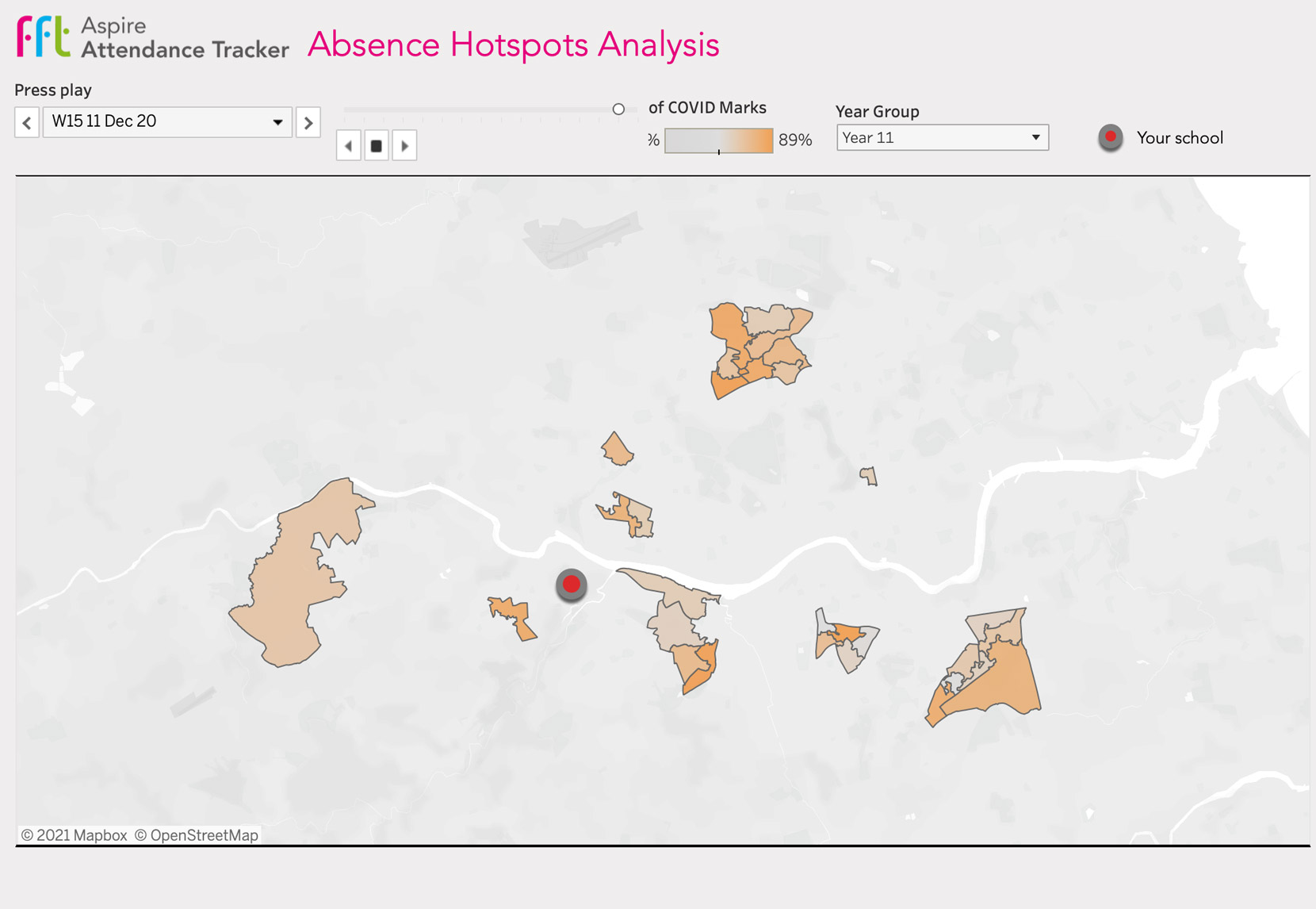 The research behind Attendance Tracker
---
Data and research go hand-in-hand. As well as providing schools with the latest attendance reporting tools, we think it's equally as important to share our research about attendance patterns in schools.
Click a topic to read our latest attendance research
---
Attendance Tracker is free for Aspire schools. Simply log in to Aspire Attendance Tracker to access your weekly attendance reports or to check if your school is set up and ready.
Log in to Aspire Attendance Tracker
Join us for a live demonstration
To support the launch of Attendance Tracker for 2021/22, we'll be running a series of live webinar events during the autumn term. Join us for a live demonstration of all the new features and find out how it can help your school track and monitor attendance.
FFT Support
For any questions about Attendance Tracker, contact our support team directly by emailing support@fft.org.uk or calling 01446 776262 (option 2).
Email FFT Support
Subscribe
Contact our sales team directly by emailing sales@fft.org.uk or calling 01446 500919.
Email FFT Sales