---
How frequently do senior leaders request assessment data? What type of data do they receive? How are targets and flightpaths created? When do schools talk to students about future attainment?
You might be surprised how little we actually know about data use in schools today. So, with the help of Teacher Tapp, we've surveyed over 3,000 staff in schools. The results, as you might expect, are fascinating. We've included a few key insights here but you'll find far more detail in our new report – 'How is data used in schools today? A 2019 survey of current practice'.
Find out more
Schools Like Yours
The new tool from FFT Education Datalab where YOU define the 'similar' in similar schools
Schools Like Yours, the new comparison tool from FFT Education Datalab lets you identify schools similar to yours, but allows YOU to define what similar means. Similar size? Similar pupil-teacher ratios? Similar funding? Similar staffing profile? Or a combination of all of these factors and many more.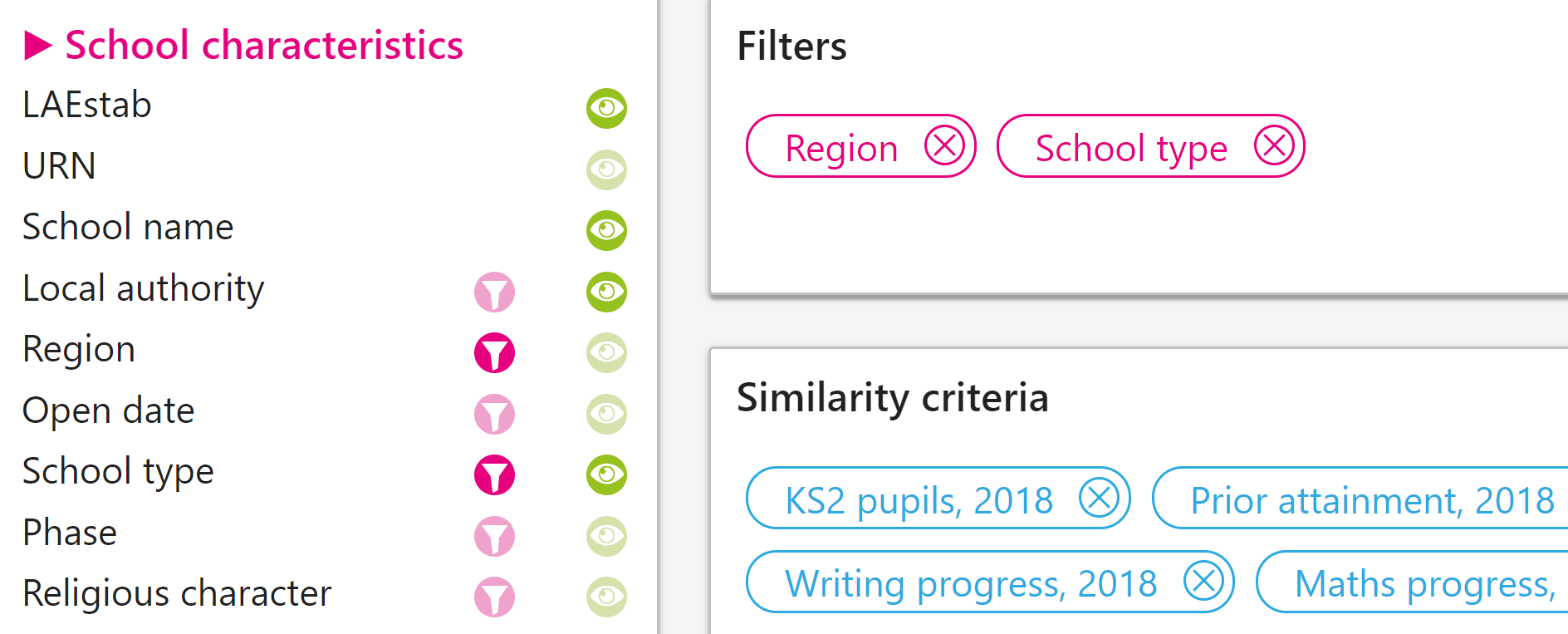 Build your own similarity index from a list of over 30 factors including:
School context - pupil numbers, FSM, EAL
School performance - attainment, progress, prior attainment
Pupil absence - absence, persistent absence
School workforce - number of teachers, pupil-teacher ratio, QT status, age, average salary, staff sickness
Finance - per pupil funding
Geographical distance
Plus:
Weight similarity factors according to their importance
Filter options to focus your search
Available at KS2 and KS4
Go to Schools Like Yours

FFT Education Datalab
We are proud to have set up FFT Education Datalab, who produce independent, cutting-edge research on education policy and practice.
An expert team of researchers
FFT Education Datalab brings together an expert team of academics, researchers and statisticians specialising in the analysis of large-scale administrative and survey datasets.
Led by FFT's chief statistician, Dave Thomson, the team produce research and analysis that can be used by policymakers to inform education policy, and by schools to improve practice.
They complete commissioned research for organisations who wish to evaluate their impact, or who need quantitative analysis to supplement their own policy work.
The team also blog regularly, using data to explore the latest developments in education.

Delivering TALIS
FFT were part of the DfE team delivering the OECD's Teaching and Learning International Survey (TALIS) 2018.
TALIS is the first and only international survey that focuses on the teaching practices and the working conditions of teachers and their headteachers in England and over 40 other countries.
The international survey of teachers & school leaders
FFT partnered with UCL Institute of Education and RAND Europe to form the National Centre delivering the TALIS survey in 2018.
TALIS has taken place every five years since it was first carried out in 2008. England participated for the first time in 2013, focussing on lower secondary (KS3) teachers and their headteachers.
For TALIS 2018, England surveyed primary (KS1 & KS2) and lower secondary (KS3) school teachers and their headteachers.