FFT's Reading Assessment Programme
Assess pupils' key reading skills with our online diagnostic reading assessment tool.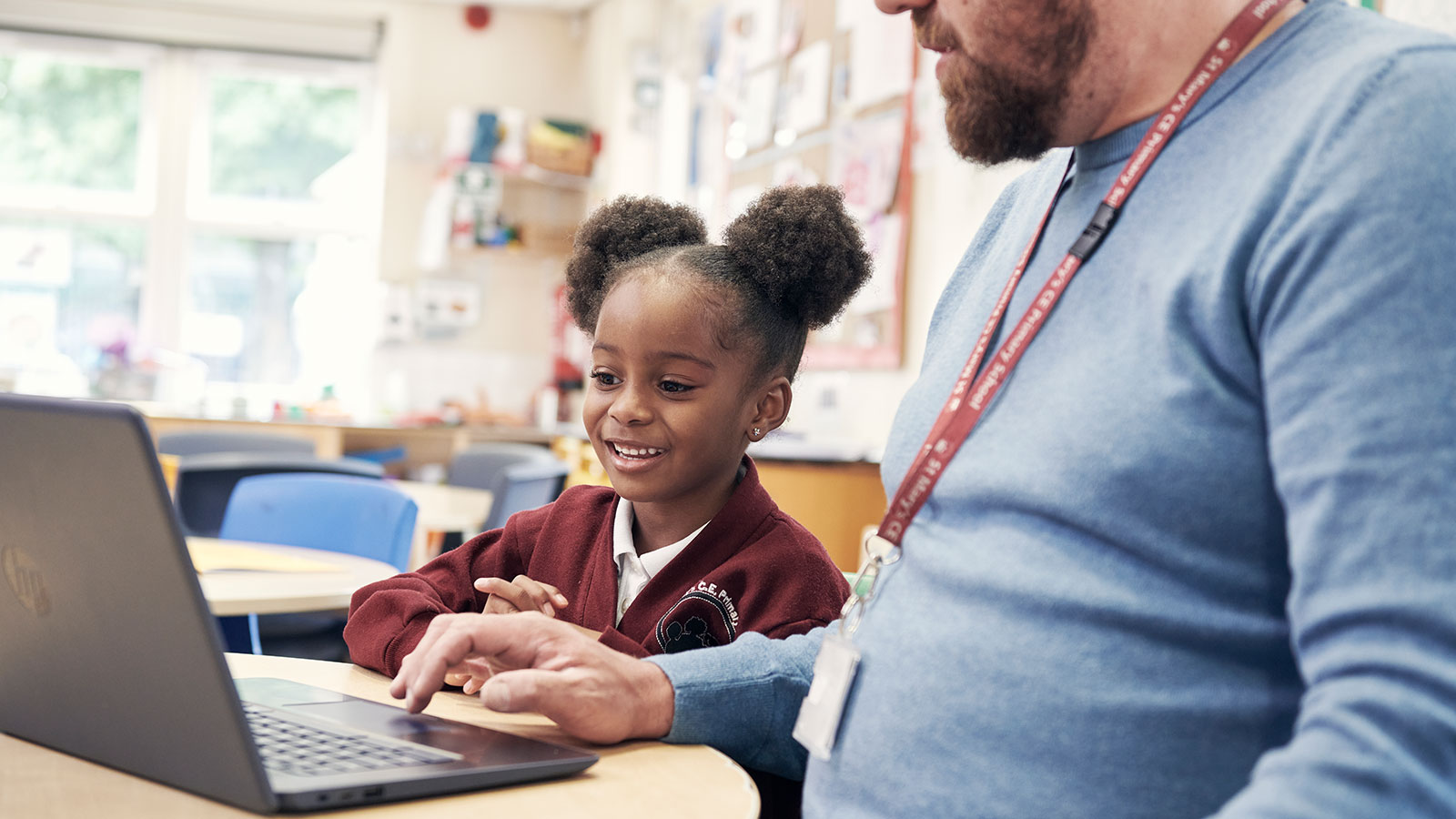 Simple online reading assessment programme
Free with our Phonics, Tutoring or Aspire subscriptions
Connects to your schools' MIS
Clear reporting with a dashboard for every pupil
What is FFT's Reading Assessment Programme?
FFT's Reading Assessment Programme is a simple and effective online assessment tool designed to assess pupils on their GPC Accuracy, Decoding Accuracy and Fluency Levels (Words Correct Per Minute).
The assessments correlate with the most recent teaching block of GPCs and Common Exception Words in Reception and Year 1 for a range of phonics sequences, trickier GPCs and Common Exception Words in Year 2 and National Curriculum Spelling List Words and Tier 2 vocabulary from Years 3 to 6.
Instantly produced reports will allow schools to analyse data at whole school, class, group or individual pupil level which will inform next steps, whether through whole-class teaching or keep-up/catch-up intervention.
A complete Reading Assessment Programme for EYFS and Key Stages 1 & 2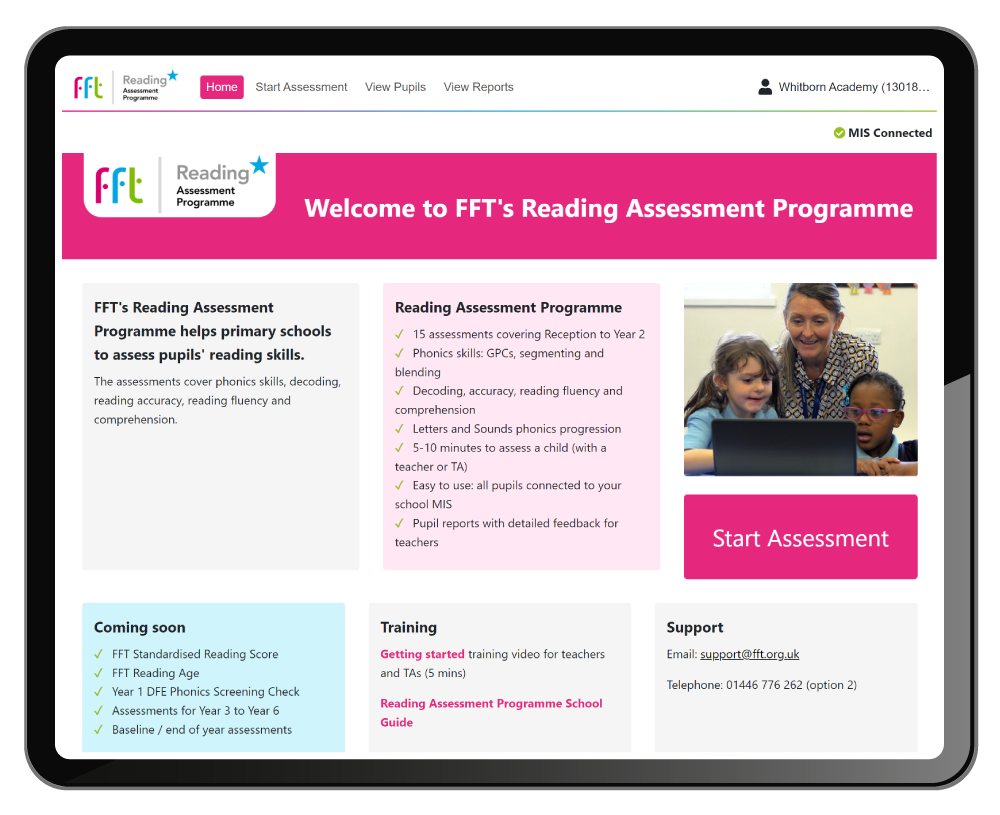 Assesses key phonics skills including GPC accuracy, segmenting and blending. Plus decoding accuracy, reading fluency and comprehension (optional)
A range of simple reports to support accurate data analysis and identify next steps
Includes DfE Phonics Screening Check past papers
Assessments can be used with a wide-range of phonics schemes including: FFT Success for All Phonics, Little Wandle, Read Write Inc, Sounds Write and Letters & Sounds
Content matched to the GPC sequence of a range of phonics providers
Look out for our FFT National Reading Benchmarks
Play the video for an overview
Clear reporting with a dashboard for every pupil
assessments for Reception and Year 1*
assessments per year group at Key Stage 2
The reports will allow you to analyse whole school, class, group and pupil level data for the key reading skills assessed.
Preview the reports below.
* For FFT Success for All. This differs for other providers.
Reports on each pupil
showing detailed evidence of their capabilities and next steps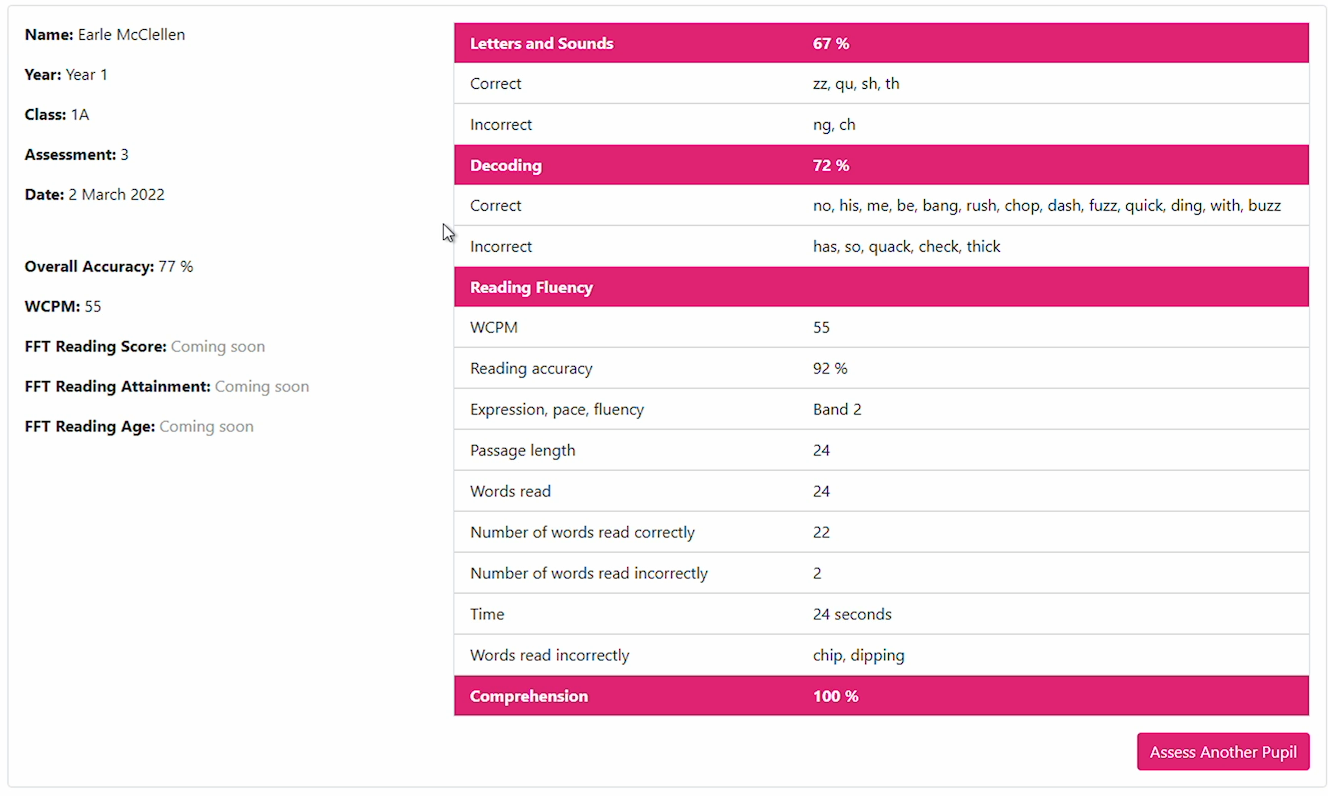 Reading fluency levels
Identify pupils' fluency needs at a glance with easy-to-interpret colour coding

GPC pupils
Identify where pupils are secure in their GPC knowledge as a class or individuals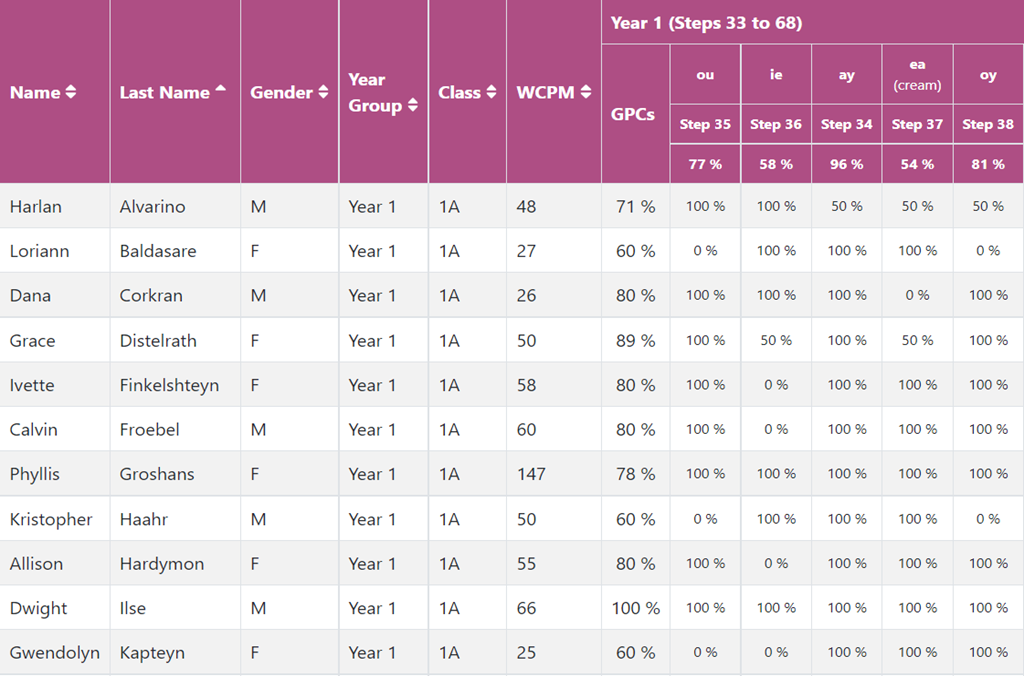 Reporting on a whole school, class, group or individual level
Instant analysis at a quick glance

Decoding summary
Instant feedback of decoding ability at whole school, year group, class or individual pupil level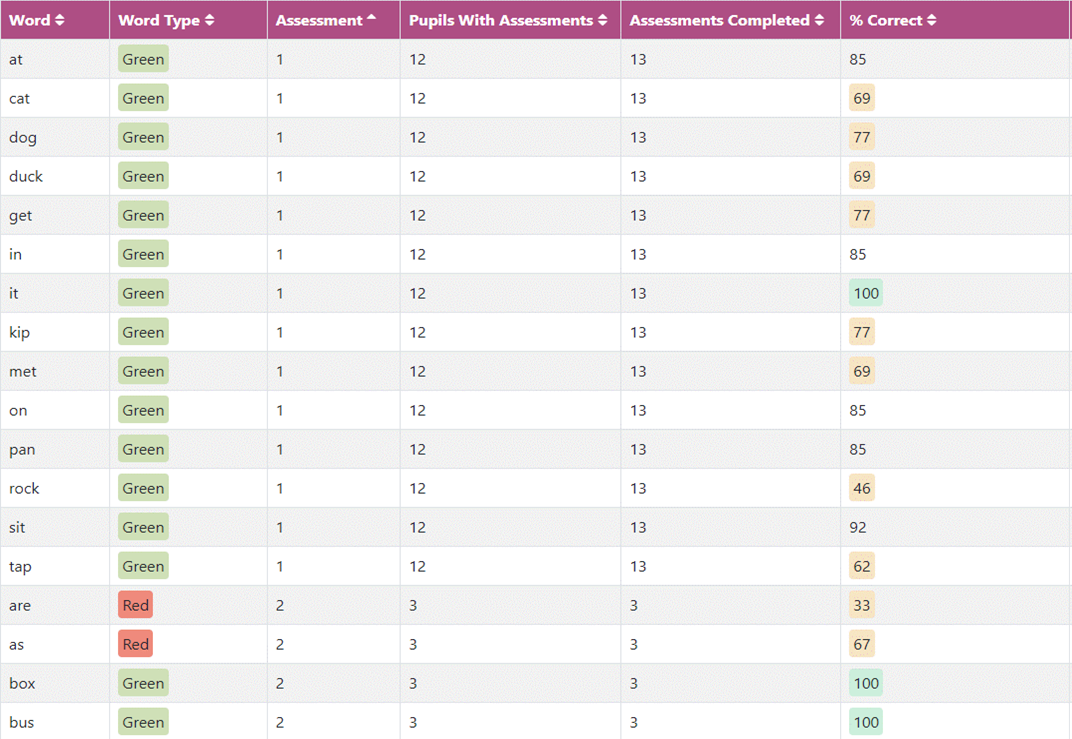 GPC summary
Instant overview of GPC success rate and gaps to inform next steps in teaching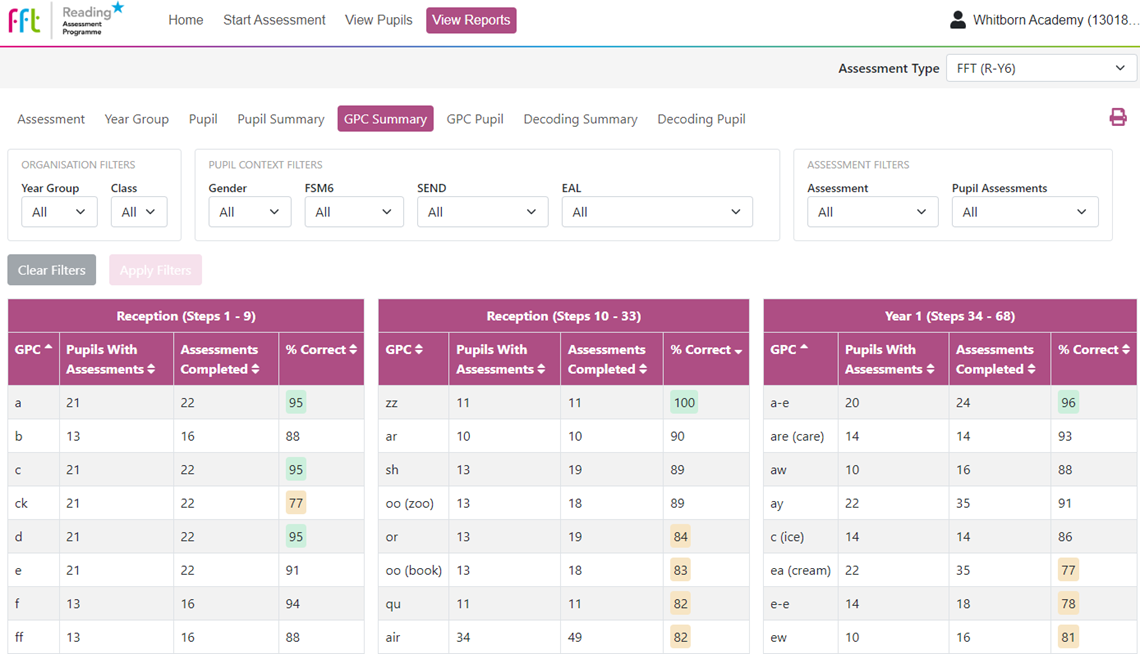 Find out more at one of our live events
How do I get the FFT Reading Assessment Programme?
Find out more and get a quote for your school.
for schools with a subscription to
Aspire
Success for All Phonics
Tutoring with the Lightning Squad
Year 2 Spelling & Reading
We've also answered some common questions in our
FAQs
below.
We've answered some common questions about FFT's Reading Assessment Programme. If your question is not answered, please
get in touch
.