2019 KS2 Early Results Service
Upload your results, download your dashboard!
---
THIS SERVICE IS NOW CLOSED.  IF YOU UPLOADED YOUR RESULTS TO ASPIRE THEN YOU CAN DOWNLOAD YOUR EARLY RESULTS REPORT FROM THE 'SPECIAL REPORTS' AREA IN ASPIRE.
Last year we launched our KS1 Early Results Service. Over 2,600 schools took part and the feedback was overwhelmingly positive but with one common theme... "We'd like a KS2 version as well!"
Good news! This year we've added Key Stage 2  to our Early Results Service. Participating schools will be able to download a full national analysis of their KS2 Reading, Writing, Maths, GPS and Science results for both attainment AND value added progress. And best of all, we're aiming to produce the reports before the end of term!
We'd like EVERY Aspire school to benefit from this free service. The process at KS2 is even more simple - just upload your NCA KS2 pupil results file securely to Aspire and then download your dashboard a few days later. It only takes a few minutes and you'll have access to the first full national KS2 results analysis of 2019!
View a KS2 example report
---
Key dates for your diary:
---
Friday 6 Sep

The final deadline for uploading results to FFT Aspire

Friday 13 Sep

Access your KS2 Early Results dashboard from FFT Aspire. Please note: schools that uploaded their results sooner have an earlier collection date. Log in to Aspire to see it.
Your FFT KS2 dashboard before the end of term!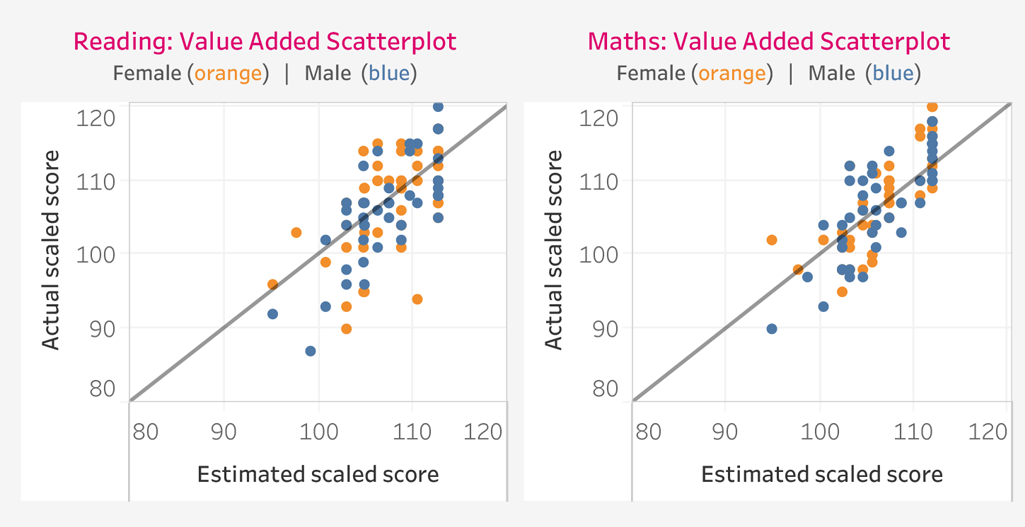 An early analysis of your 2019 KS2 results before the end of term

A full national analysis of attainment AND Value Added progress between KS1 and KS2

Includes KS2 Reading, Writing, Maths, GPS and Science

Whole school, pupil group and subject-specific reports

Comparative national attainment analysis (using 2019 results)

Identify key subject and pupil group issues early in readiness for September 2019
View a KS2 example report
What do I need to do?
Get ready

Make sure you can view the 2019 KS2 Early Results upload page in Aspire - it's accessed via the spanner icon at the top of the screen. You'll need an Aspire account with Manage Data administration privileges to do this.

Upload

Upload your 2019 KS2 pupil results CSV file. You'll be able to access this from the NCA tools website on Tuesday 9 July. Once you've got this file, simply upload it to Aspire.

View your report

Once you have successfully uploaded your results, that's it! We'll take over from here by analysing your results (alongside other schools taking part) and then let you know as soon as your report is ready to download from Aspire.
Whilst the process is very simple and should take less than 5 mins to complete, we've included a full step-by-step guide to ensure that everything goes smoothly.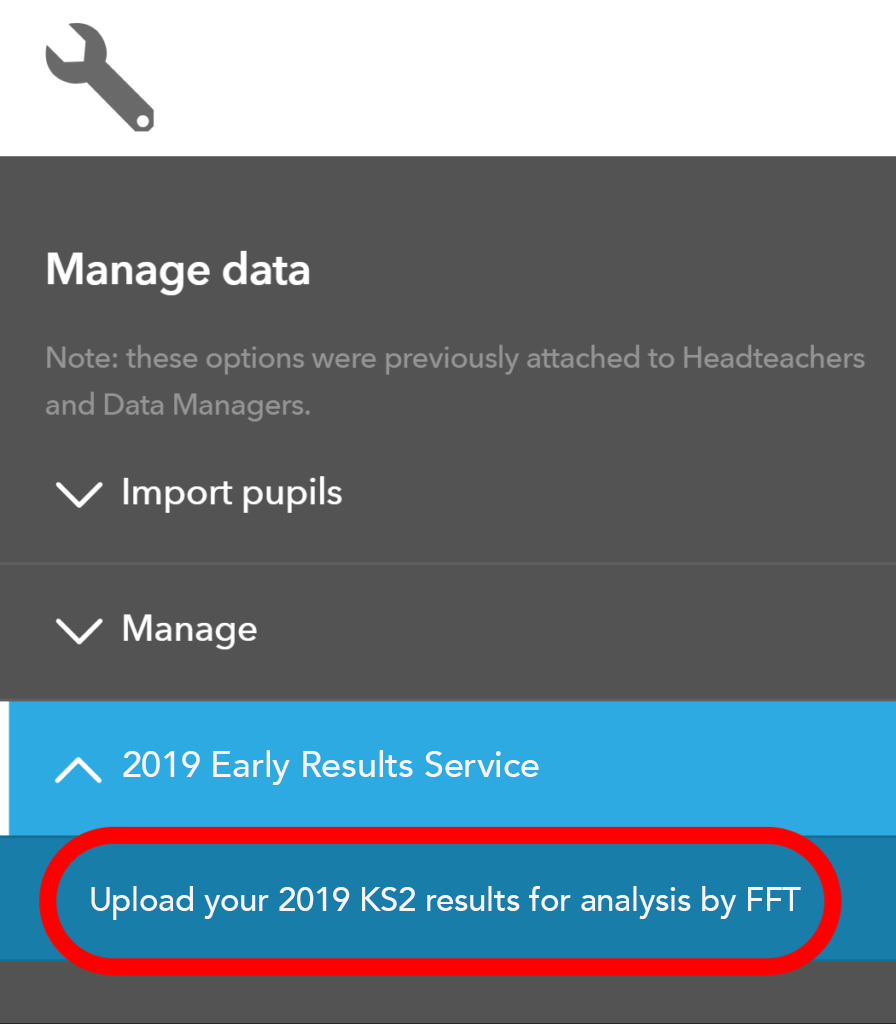 2019 KS2 Early Results Guide (PDF)
It's all free!
There are no additional costs - this is a free service for all Aspire schools.
Log in to FFT Aspire
---
For further details about the FFT 2019 KS2 Early Results Service please email support@fft.org.uk or telephone us on 01446 776262 (option 2).